Just What do you Think You're Doing,

User

?
This is property of Doremy. Please Do Not Edit Unless you got Specific Permission. However, you may edit Grammar Mistakes and Other Minor Edits.
| | |
| --- | --- |
| | Angie was voted as the featured customer of the week at some point in the past. |
Angie



Gender

Female

Relatives

Chuck: Husband 4 Kids, 2 brothers 1 sister

Parents

Clair/ Hank

Occupation

Wingeria Worker

Favorite Food

Jalapenos
Dr. Angela "Angie" Kay P.H.D. is an African American girl who works at the Wingeria. Her full name is Angela "Angie" Karina Kay. She lives on top of the Pizzeria, in the penthouse suite with her husband Chuck, and her kids Kelvin, Ashley, Chris, and Lyndsey. Her siblings are Zoe, Taylor, and Jeffery. She used to be Delivery Boy Roy's girlfriend, but dumped him when she found out he was cheating on her. But she got married to Chuck and had 2 kids: Ashley and Kelvin. She Hates Mitori Kawashiro, Because when she was eating a Jalapeño Taco, she prohibted Jalapeños. She has the power to manipulate anger and rage, as a result of her bad habit of taking her anger out on innocent people. Her archrival is Lauren. She recently graduated medical school. She is a doctor, but still works at the Wingeria part-time on Thursdays, Fridays, and Saturdays. She LOVES to play touhou but she absolutely SUCKS at it.  Her favorite holidays are Easter (Cupcakeria), Romano Wedding (Pastaria), and Starlight Jubilee/BBQ (Donuteria/Cheeseria). 
Flipdeck Info
This jalapeño lover is one of the many Papa's Wingeria chefs. When she feels like it, she drives around Starlight City in her Pink Camry. Her favorite color is pink, and it won't change. She married Chuck and lives in a luxury penthouse with Chuck and her 4 children      
Bio
Angie was born on December 21, 1984 in a house in Tacodale. When she was 2, a high chair she was on fell over and messed up the part of  the brain that lets you see. That is why she wears glasses. When she was 5, a hurricane broke out and destroyed the home. In middle school, she was the star on the basketball team, even though she was the shortest player. Her BFFs were Cecilia, Penny and a Mexican-Tastyvillian girl named Isabel Alvarez. After struggling in high school she was accepted into Mint Barvard University and got a Master's Degree in the Medical Field. While searching for a hospital to work at, Angie got a ticket to Starlight City and won the Wingeria and had to work there. She is qute happy with it. She saw Chuck (her middle school classmate) and they fell in love. They were married and had four kids. She then accepted a job as a doctor in Burgerburgh Children's Hospital. She also currently works at the Wingeria on Thursdays, Fridays and Saturday nights.
Orders
Pizzeria: 8 Pepperonis, 4 Sausages (bottom half) , Well Done, Cut into 8 slices
Burgeria: Bottom Bun, Tomato, Medium Patty, Ketchup, Onion, Mustard, Top Bun
Taco Mia: Pita Bread, Steak, Jalapenos, Cheese, Jalapenos, Tomatoes, Loco Mystery Sauce
Freezeria: Large Cup, Creameo Bits, Mint Syrup, Smooth Blend, Whipped Cream, Chocolate Drizzle, Chocolate Chips, Cookie
Pancakeria: Pancake, Blueberries, 4 Bananas, Waffle, Maple Syrup, Blueberries, Large Tea with Sugar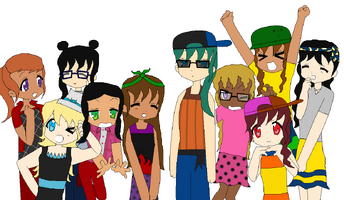 Wingeria: 4 Wasabi Chicken Strips, 4 Buffalo Chicken Strips, 8 Green Peppers, 2 Ranch Dips
Hot Doggeria: Chicago Bun, Kielbasa, Cheese, Ketchup, Sport Pepper, Sport Pepper, Tomato, Small Fizzo, Medium Buttered Popcorn
Cupcakeria: Liner D, Strawberry Cake, Cupcake 1: Pink Frosting, Creameo Bits, Cherry (Tulip Cookie), Cupcake 2: Violet Frosting, Rock Candy (Jelly Beans), Chocolate Drizzle, Marshmallow, Nutty Butter Cup (Candy Egg), Marshmallow
Pastaria: Spaghetti, Three Cheese Sauce (Cathedral Carbonara), Crushida Pepper (Bouquet Blend), 5 Chickens, 4 Sausages, Pepperoni Bread
Donuteria:  Donut 1: Chocolate Ring (Star), Strawberry Icing, Rainbow Sprinkles (Blue Star Sprinkles), Donut 2: Regular Long John (Blueberry Ring), Clear Glaze, Blueberry Custard, Sugarplum Drizzle (Cherrybomb Drizzle), Red Velvet Round (Star), Cinnamon Sugar (Blue Icing), Boston Cream (Jubilee Jelly), Crushed Peanuts, Caramel Drizzle (Powsicle Drizzle)
Cheeseria: Multigrain Bread (Texas Toast), Shredded Mozzarella, Lettuce, Mustard (Lone Star Pit Sauce) Lobster Chunks (Smoked Beef Brisket), Jalapenos, Jalapenos, Crinkle Cut Fries with 2x Jalapenos!!!                
Her HILARIOUSLY AWFUL First Concept
Back in 2012, when Doremy first played a Flipline Game, Angie's concept was pretty different from today. She has pigtails and ugly nerd glasses.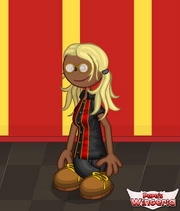 Glitches
In Taco Mia, if you pile only jalapenos on steak, she will give you 95-100 points.
Gallery
Doremy Sweet

's FCs
Major FCs
(Click to Expand/Hide)
Minor FCs
(Click to Expand/Hide)
Touhou FCs
(Click to Expand/Hide)