Hey, you! Yes, you!
Hey there, this page belongs to Azuki. Don't edit it with major edits unless you got permission, but at least fixing typos and adding categories/images is okay.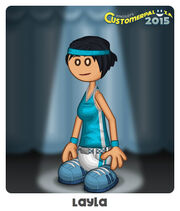 Layla is an swimmer who resides in Calypso Island. She has won more than fifteen Olympic medals in her career, including five gold medals in the 2001 Olympics at Burgerbugh.

She started her swimming career at the age of 9, being the youngest one in Calypso Island Elementary School.